AprilAire Dehumidifiers
Prevent the STINK!
High humidity in basements creates an environment where mold and mildew can grow. Mildew has a milder, musty smell – the odor is usually compared to wet socks. Mold odor is stronger and pungent.
The key to mold and mildew control is moisture control.
Is Your Home Air Healthy?
HUMIDITY CONTROL


It's Essential for Wellness
Controlling basement humidity has been shown to reduce the spread of mold, bacteria and viruses. Using an AprilAire Dehumidifier maintains the proper balance of 40-60% of relative humidity in basements to give homeowners a healthier home enviroment. Controlling humidity in basements also helps preserve the life of furnishings, wooden household items and wood trims/doors.
Optimal Relative Humidity Range
Equilibrium Moisture Content (EMC) for Wood
HEALTHY HUMIDITY BY THE NUMBERS

AprilAire Dehumidifiers
Advantages of AprilAire Dehumidifiers Over Retail Models
Made in the USA
AprilAire Dehumidifiers are made in the USA – engineered and manufactured in Madison, Wisconsin.
5 Year Warranty
AprilAire Dehumidifiers come with a five-year bumper-to-bumper warranty and have a 15-plus year system life expectancy.
Durable & Better Performing
Unlike smaller retail units, AprilAire Dehumidifiers have 8-10 times more CFM over the evaporative coil and are more durable with e-coated coils that resist corrosion.
Millions of Made in China Dehumidifiers Recalled
As of August 4th, 2021 – The U.S. Consumer Product Safety Commission (CPSC) has announced recalls of over 7.6 million dehumidifiers made by overseas manufacturers New Widetech, Midea and Gree and sold under many popular brand names like… Comfort Star, Danby, Edgestar, Frigidaire, GE, Honeywell, Sunbeam…
List of Dehumidifiers Being Recalled
PRINTABLE FLYER
Portable dehumidifiers have a lower capacity for dehumidification so they run constantly, which can lead to electrical failure and cause damage. Hundreds of these dehumidifiers found at big box retail stores have caught fire and resulted in $24 million in damage.
AprilAire Dehumidifiers are made in the USA to very high standards.
WATCH NEWS STORY
More Energy Efficient
AprilAire – E100 Dehumidfiers have been recognized as ENERGY STAR® Most Efficient for 2022 – delivering 23% energy savings over conventional dehumidifiers. AprilAire Dehumidifiers cost about $216 less to run during the summer than a cheaper retail model.
Longer Life
Portable dehumidifiers need to cycle on and off more frequently, causing their compressors to wear down. In contrast, AprilAire Dehumidifiers drop the relative humidity 3% below the set point so it cycles on and off less, reducing the energy use and compressor cycling which extends the life of the compressor.
Quieter & Convenient Operation
AprilAire Dehumidifiers are installed away from the living space and are among the quietest on the market. While having a high removal capacity, AprilAire Dehumidfiers are still convenient to operate as there are no messy water containers to empty.
DOWNLOAD BROCHURE
WHAT MAKES APRILAIRE A BETTER DEHUMIDIFIER FLYER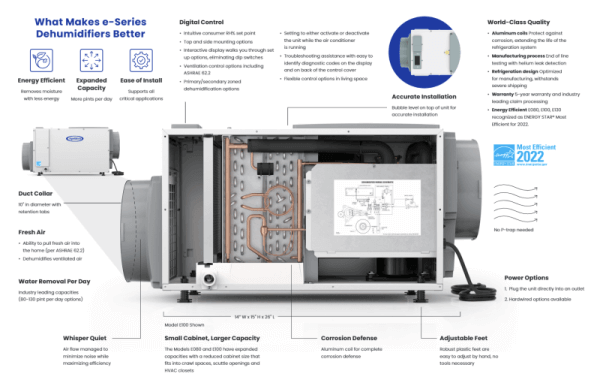 Humidity & Product Explanation Videos
BASEMENT HUMIDITY
CRAWL SPACE HUMIDITY
Add Proven Systems & Profit to Your Business
Learn More About the Benefits of Becoming a Qualified Contractor